Marriott Drilling Group
Onshore Drilling Company
The Marriott Drilling Group is the largest onshore deep drilling company based in the United Kingdom operating 20 drilling and workover rigs and a wide range of drilling and associated services to the oil, gas, shale gas, gas storage, coal, CBM, mining, water and geothermal industries and for specialised geoscientific drilling projects in Europe and selected international markets.
Marriott offers a selection of business arrangements from traditional day rate type contracts to incentive contracts, alliances and partnerships to provide clients with a wide range of services, particularly for special and long term projects.
The Marriott Drilling Group has an ambitious growth strategy including plans for increasing the rig fleet by adding state-of-the-art equipment where opportunities arise and developing further international markets.
Marriott is a member of the International Association of Drilling Contractors (IADC) and a member of the Well Drillers Association (WDA).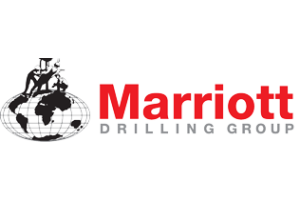 Website:
Visit Marriott Drilling Group's website