RAI - Rope Access Inspection (Pty) Ltd
Rope Access Specialists.
Rope Access Inspection (RAI) was established in 2009 with wide experience of offshore oil platforms, drill rigs, FPSO's, Refineries and servicing rigs coming into Cape Town harbor for refurbishments.
The commitment was relatively focused on safety using IRATA procedures & guidelines and doing whatever was required. RAI is thus proud to have become and IRATA probationary member as of June 2010 and full member as of July 2011.  Rope Access Inspection remains committed to service excellence and safety for Work At Height, therefore RAI only employs Rope Access Technicians that are suitably trained to IRATA and International standards.
During 2012 RAI made a vision change and decided to focus primarily on the oil and gas industry. The requirements of this industry informs a broadening of the vision to become a leading "knowledge" company. RAI wants to be known for expert knowledge in the most important inspection and testing technologies followed by functional reporting to create saving and cost effective solutions to clients!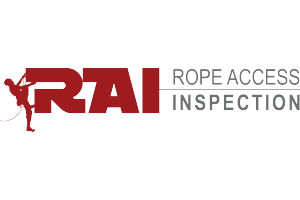 Website:
Visit RAI - Rope Access Inspection (Pty) Ltd 's website