Global Lifting Services Nigeria Limited
Global Lifting Services Nigeria Limited was incorporated in May 2002 to provide international standard services in lifting equipment testing and certification as well as lifting equipment supplies.
Global Lifting Services Nigeria Limited is an offshoot of Global Lifting Services Limited, Aberdeen in the UK and has been in similar business since 1979 with a management team of over eighty years combined experience in the lifting equipment industry. It is not surprising that Global Nigeria has become a household name within the oil & gas sector in Nigeria due to the technical & managerial support obtained from Aberdeen.
As part of its philosophy, Global Lifting Services maintain a flat management structure using well qualified duly certified personnel each capable of fast and effective decision-making. This structure has led to an excellent customer satisfaction record, with Global having the reputation for providing rapid, dynamic, excellent and quality service delivery systems. Mindful of the safety-critical nature of our business, very high emphasis is placed on the meticulous design of test/examination processes and procedures. Our business procedures and processes ensure that all human, material, IT and financial resources are used in an efficient and environmentally friendly manner to ensure that teamwork, excellence and continuous improvement practices are consistently achieved.
Quality Management:  Our quality management systems focus on customer satisfaction, through in-depth understanding the customers' lifting gear needs and best practices. We plan, follow through and regularly review all assignments to identify opportunities for service quality improvements.
Awards and Recognition: Global Lifting Services Nigeria quality management system has been approved by NIS ISO 9001:2008, with certification No.0000248, which covers a range of Lifting services including inspection, maintenance, test and manufacturehore containers.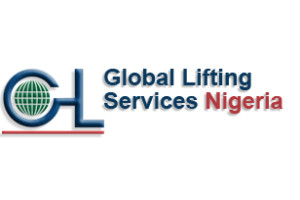 Website:
Visit Global Lifting Services Nigeria Limited's website