Matostech
Maintenance, Repair, and Inspection
Matostech – Maintenance, Repair, and Inspection has as objective provide, in a safe, efficient and professional manner, maintenance, repair and inspection services at Oil & Gas industry and Building Sector.
Matostech operates at the market in an innovative way, regarding transparency on our businesses. The customer has always full access to their reports via our online client portal.
Counting with a high skilled team, multidisciplinary, to attend our clients with excellence and reliability, using Rope Access techniques and other services, respecting the best HSE practices.
Our employees are fully competent to attend many services, such as follows:
NDT Inspection Services – Qualified Inspectors by ISO 9712.
Lifting Gear Inspection
DROPS Inspection – Train the Trainer
Tubular Pipe Inspection - BHA
Rig Inspection and Surveys
Welding Inspection
General Maintenance Services
Rope Access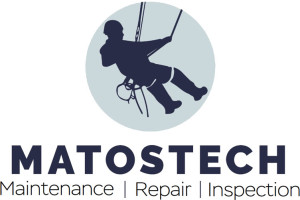 Website:
Visit Matostech's website