SCOTGRIP® INTERNATIONAL Limited
Global specialists in the manufacture of high quality, industrial anti-slip safety products.
SCOTGRIP® INTERNATIONAL are manufacturers of high quality, heavy duty anti-slip & polyurethane safety products. We offer a wide range of products which improve safety on Stairways, Walkways/Decks, Rig floors, Pipes, Cargo Landing areas, Ramps, Ladders & Gangways. The Scotgrip® brands are well established as the leading force in heavy duty anti-slip safety products having served industry for more than 30 years!
We serve the Oil & Gas, Subsea, Nuclear, Shipping, Pulp & Paper, Construction, Food & Drink Industries globally, as well as Local Authorities in the UK.
In the workplace, 'Slips & Trips' make up one of the highest accident statistics. Scotgrip® products are designed to eliminate these accidents even in the harshest working environments and we have found this reflects positively on personnel performance in the workplace and on productivity in general.
Scotgrip® HD anti-slip safety products incorporate the unique Scotgrip® high traction anti-slip safety surface which gives a sound foot-holding in the most extreme conditions. These tough & durable products are manufactured under BS EN ISO 9001:2008 quality-controlled conditions comprising of a reinforced composite base and a graded aggregate surface which resists in-filling to a much greater degree than conventional paints and coatings. As a Scotgrip® quality standard these products are fire rated, spark and friction tested.
As a manufacturer, Scotgrip® International can offer our clients the benefit of custom made Scotgrip® HD anti-slip & polyurethane safety products for areas requiring unusual shapes and dimensions.
Be assured our standards are high & the safety of your personnel is paramount.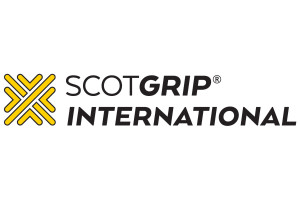 Website:
Visit SCOTGRIP® INTERNATIONAL Limited's website